The School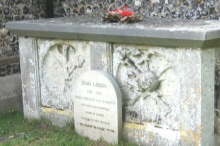 Mary Gibbon lived in Hartlip until her death in 1678. She is buried in the grave yard of Hartlip Church.
In her will, dated 15th October, she left a
'messuage (dwelling house and curtilage) garden and orchard and six acres of land in Hartlip, to trustees, with the intent that they should, out of the rents and profits, (after deducting a rent-charge of 20s. payable to the vicar) put to school such poor children of the said parish, to be taught to read English.'
She also directed, that
'a Bible should be bought and given to each poor child, when able to read any chapter in it, and that such child should then be taken from that school and its place supplied by another.'
Present day
The school survives to this day and still presents Bibles to its scholars when they leave at the age of 11. At the annual leavers' service, the children leave flowers on Mary Gibbon's grave. The school currently has around 100 pupils.
School documents
A number of historic school documents are still in existence and are going to be put on-line.
At the moment only the punishment book is available which can be searched.