One of the documents that survives in Hartlip School is the School Punishment Book. It details all of the physical punishments administered on school children (almost exclusively boys) between 1909 and 1936.
In a paper entitled Corporal punishment in some English elementary schools, 1900-39, published in Research in Education in 1977, Musgrave states that,
"There is some evidence .... that much of the practice in the various school boards in relation to regulations concerning punishments was based on what had gradually evolved under the London School Board. At the first meeting of that board in 1871 regulations concerning punishments were passed. The first stated that 'every occurrence of corporal punishment shall be fully recorded in a book'."
However, he goes on to state that,
"... in mid-1908 some counties, e.g. Derbyshire, Devonshire, Kent, Lancashire, Leicestershire, Middlesex and Northumberland, had no regulations"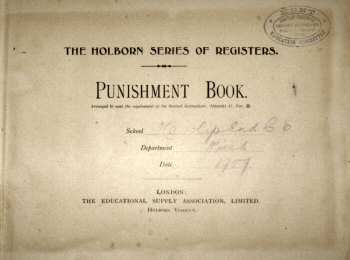 The book in Hartlip's records dates from 1909 so it seems likely that, in that year, the Kent Education Committee started to require schools to record instances of corporal punishment in a book.
The cover of Hartlip's book is shown on the right. It was a specially produced book, from the Educational Supply Association ('The Holborn Series of Registers') and was priced at 1s 6d.
Inside the Punishment Book, a copy of parts of a circular from The Kent Education Gazette has survived. Issued in 1920, the circular reminds teachers of a previous circular letter of 1910. This derived from the Suggestions for the Consideration of Teacher and Others, a publication of the Board of Education in 1905. It stated,
"The Committee have recently had before them the question of Corporal Punishment, and I am directed to say that they approve generally the principles laid down by the Board of Education in the Introduction to the Suggestions for the Consideration of Teachers and Others, but that the Committee consider that girls should not be subjected to corporal punishment unless in exceptional cases, and then only (1) at the hands of a woman teacher, (2) of such a kind as is approved by the Head Teacher, and (3) after school hours."